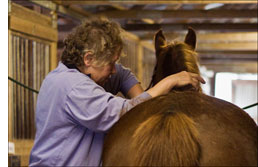 Eva studied at the Swedish Institute in New York, the Therese Pfrimmer School for Deep Muscle Therapy in Ontario, Canada (where she trained with Jack Meagher), and she received a masters degree in Sports Science in l985.
Since then, she has studied with osteopaths at the Upledger Institute in Palm Beach Gardens, Florida.
A member of the board that established the National Certification for Massage Therapists in the United States, Eva is a past president of the American Massage Therapy Association in Vermont.
By working fascial lines and the craniosacral rythum, Eva helps to rebalance both horse and rider. She also releases neural restrictions that inhibit muscular firing patterns, thus restoring neural and fascial integrity for both joint and muscular wellness.
Eva's specialties are myofascial bodywork, craniosacral therapy, visceral manipulation, neural manipulation, deep tissue therapy, orthopedic massage, and sports massage therapy.



Contact Eva Peterson, Licensed Therapist:
802 369-0227
eva@evapetersonmassage.com